MA in African Studies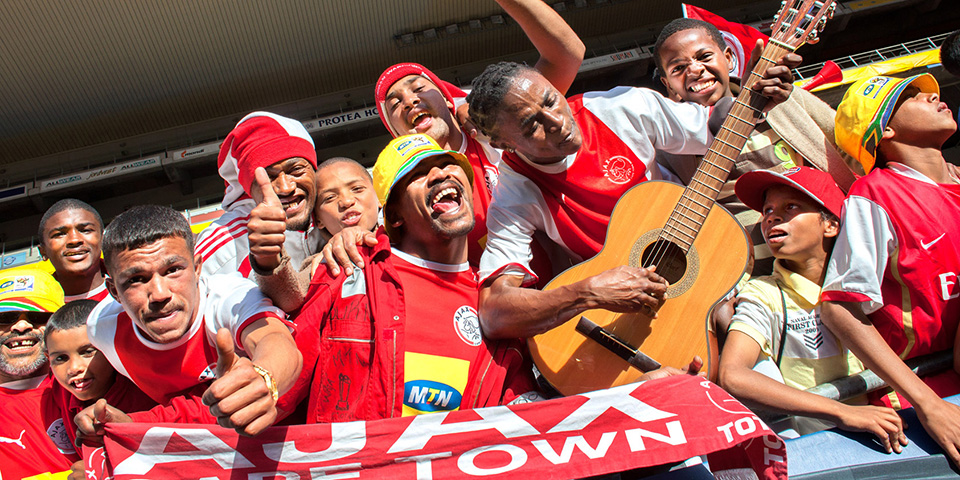 African Studies (Master's Degree Program)
An interdisciplinary focus on Africa
There are many good reasons to study Africa. For anyone wishing to engage with the continent on a deeper level, the traditional formulas are for the most part inadequate. A single discipline can no longer cover or express the multiple demands faced by anyone dealing with Africa and its people. Where the usual interpretations fail, new knowledge is needed. In Basel, a wealth of such knowledge has been developed over decades and consolidated at the Centre for African Studies Basel (ZASB). Since 2002, the Centre offers a specialized interdisciplinary Master's Degree in African Studies. The program draws on the social sciences, humanities and the natural sciences. Key thematic fields are media and imagination, knowledge production and transfer, governance and politics, public health and social life, and environment and development.
Focal areas of teaching and research
The goal of the MA in African Studies is to equip students with in-depth knowledge and skills for an interdisciplinary and transdisciplinary scientific examination of Africa. Against the backdrop of the Centre's particular interest in African cities and the rapid urbanization process underway on the continent, the program focuses on five thematic key areas:
Media and imagination: How is the increasingly visual orientation of information and communications technologies changing societies in Africa? What fears, hopes, goals and dreams are expressed in media and images?
Knowledge production and transfer: How is knowledge generated, concentrated, negotiated and passed onin African contexts? Are cities a hub for the emergence of an African knowledge society?
Governance and politics: How is political rule reproduced in a rapidly changing context? How are the everyday practices of political administration and services arranged in Africa?
Public health and social life: What challenges does healthcare face in Africa? How do people interact with health systems? What is the basis for their resilience in crisis situations?
Environment and development: How do environmental factors of global change impact on the built environment? What conditions must be met to ensure sustainable use of urban and rural habitats?
The individual modules include courses from a variety of disciplines. Central among them are history, social anthropology, sociology, political science, theology/religious studies, environmental sciences and epidemiology. Moreover, the degree program features regular contributions from disciplines such as literature studies and linguistics or gender studies.
By combining and comparing these different approaches, students develop a scientific understanding of the dynamics and historical evolution of the social and natural environment, the health situation, and the living conditions of people in different regions of the continent. Students are exposed to a wide variety of scientific methods. Furthermore, transdisciplinarity is promoted by introducing students to applied research fields and leveraging practical knowledge from outside the university.
Admission requirements
Students are admitted with a bachelor's degree (BA/BSc) in one of the subject areas or fields of study listed in the study program of the MA in African Studies. The program has a strong emphasis on the social sciences. Foundational knowledge in a social science discipline and prior experience and knowledge of the African continent are advantageous, but not a requirement for admission.
Once an application has been submitted through the Student Administration Office, it is assessed by the African Studies teaching committee, which may stipulate additional admission requirements. The final decision by the President's Board is conveyed by the Student Administration Office.
Advice on admission requirements is available from the ZASB executive office.
Program structure
A master's is a second degree that a person can earn after completing a bachelor's and requires 120 credit points (CP) in total. The Master's Degree Program in African Studies is a single-major degree, which means that no other subjects are studied to achieve the 108 CP. Free electives (12 CP) are also included. One ECTS credit point equates to approximately 30 hours of work.
Master of Arts (120 CP)
African Studies
108 CP
Free electives (Komplementärbereich)
12 CP
Master's degree program

Students are free to choose any free elective. These courses allow students to deepen their knowledge of their degree subjects, gain an insight into other degree subjects offered by the University of Basel, or acquire language skills.


Master's examination & degree
Registering for the master's thesis and examination
Semester of registration to semester of examination

SS 2017
to
SS 2018

FS 2017
to
FS 2018

SS 2018
to
SS 2019

FS 2018
to
FS 2019

SS 2019
to
SS 2020

Registration forms available from

Expired

Expired

09.04.18

08.10.18
08.04.19

Commencement of master's thesis
Form submission Studienvertrag Masterarbeit/Vereinbarung Masterprüfungen

Expired

Expired

08.05. - 24.05.18

06.11. - 22.11.18
07.05. - 23.05.19

Form submission Bestätigung: Abgabe der Masterarbeit*

Expired

08.08. - 28.08.18

07.02. - 28.02.19

08.08. - 22.08.19
04.02. - 27.02.20
Examination session**
28.05. - 01.06.18
17.12. - 21.12.18
23.05. - 29.05.19
16.12. - 20.12.19
25.05. - 29.05.20
Notification of grades
14.06.18
14.01.19
13.06.19
13.01.20
15.06.20
Degree application

Inspection of examination papers & delivery of evaluation reports
19.06. - 09.08.18
15.01. - 14.02.19
18.06. - 15.08.19
14.01. - 13.02.20
16.06. - 14.08.20
Graduation ceremony
08.09.18
23.03.19
14.09.19
21.03.20
12.09.20
Subject to subsequent changes.
*Submission deadlines differ according to the date of the commencement of master's thesis.
**Students also have the option to take their master's examinations in the following semester. This must be arranged during registration and the decision is binding. 
Registering for the master's examination for minor students (e.g. sports, geography) 
| | SS 2018 | FS 2018 | SS 2019 | FS 2019 |
| --- | --- | --- | --- | --- |
| Registration forms available from | Expired | 10.10.17 | 09.04.18 | 08.10.18 |
| Registering for the master's examination for minor students | Expired | 08.05. - 24.05.18 | 06.11. - 22.11.18 | 07.05. - 23.05.19 |
| Examination session | 28.05. - 01.06.18 | 17.12. - 21.12.18 | 23.05. - 29.05.19 | 16.12. - 20.12.19 |
| Notification of grades | 14.06.18 | 14.01.19 | 13.06.19 | Date to follow |
Subject to subsequent changes.
Career opportunities
The program prepares students for what is a relatively young scientific field in Switzerland, and an emerging international labor market. This market calls for a wide range of specific, Africa-related knowledge and skills that are not usually taught in a connected fashion in university education, and are prerequisites for further professional training.
Combined with appropriate internships, trainee positions or further education programs, the MA in African Studies offers a gateway to the following professional fields: multilateral and bilateral organizations, migration and integration, museums and exhibitions, archives and libraries, governmental and non-governmental development cooperation, commissioned research and consulting, environmental projects, diplomatic service, tourism, business, research, journalism and intercultural communication. In addition, the master's degree provides access to doctoral studies.
International Students
Please note that in the case of international students the letter of admission is often only issued a month before the start of lectures. Since the application process for a study permit can take up to 4 months, international students usually have to postpone the start of their studies to the folllowing semester.
For a successful visa application a proof of sufficient financial means to cover the cost of your living and studying (CHF 2000.-/month) has to be submitted. As a rule the embassy will expect a bank draft of an account in the applicant's name containing the funds required for the first 9 monhts of your studies in combination with a letter explaining in a transparent and plausible way, that funding is sustainable for the chole duration of the studies (24 months).
| Name | First name(s) | Year | Title | Reference nr |
| --- | --- | --- | --- | --- |
| Hofer - Czendlik | Daria | 2006 | Malaria in pregnancy – risks, insecticide treated nets and intermittent preventive treatment – a study in Rufiji District, Tanzania | MAT 2006 001 |
| Pulver | Jeanne | 2006 | Performative Kommunikation - Theatrale Intervention. Wirkungsziele und Wirkungsweisen einer kollektiven Theaterarbeit in Bobo-Dioulasso / Burkina Faso | MAT 2006 002 |
| Rüedi | Franziska | 2006 | Asinamali! - We have no money: Social Movement Activism and the Role of the Churches in the Vaal Triangle c. 1975-1985 | MAT 2006 003 |
| Steinmann Mandume | Pia | 2006 | "Manuel ist mein bester Freund, mein Halbbruder". Eine qualitative Untersuchung der Beziehungsnetze von Jugendlichen aus Kamerun und der Demokratischen Republik Kongo in Basel | MAT 2006 004 |
| Yéré | Henri-Michel | 2006 | The Cultural Biography of a Generation: Zouglou Music and Youth in Côte d'Ivoire | MAT 2006 005 |
| Brühwiler | Benjamin | 2007 | MANaging Bankruptcy. Masculinities in Dar es Salaam, 1985-1990 | MAT 2007 005 |
| Gastrow | Claudia | 2007 | Designing Dystopias: Social Security in South Africa c. 1939 - 1946 | MAT 2007 004 |
| Kyburz | Sonja | 2007 | "Sending money home" Eine Untersuchung zum Remittance-Verhalten kamerunischer Migranten in der Schweiz im Spannungsfeld transnationaler Familienbeziehungen | MAT 2007 002 |
| Nyffenegger | Manuela | 2007 | Wahrheit und Dichtung in den Lebensgeschichten von ehemaligen Sklavenkindern auf Sansibar. Ein Vergleich von Anton Horners/Jean-Joseph Gaumes Suéma und von A.C. Madans Kiungani | MAT 2007 003 |
| Pfander | Denise | 2007 | "So gross oder klein wie ein Mensch, so gross oder klein ist sein chi." Aspekte eines Persönlichkeitskonzepts der nigerianischen Igbo im Vergleich mit dem Selbstkonzept C.G. Jungs. | MAT 2007 001 |
| Schätti Zundel | Christian | 2007 | Kulturelle Epidemiologie und Krankheitsmanagement von Typ 2 Diabetes im ländlichen Südafrika: eine Pilotstudie | MAT 2007 007 |
| Schubert | Jon | 2007 | Dez jogadores contra um guarda-rede. Angola. The Dynamics of State and Civil Society 2002-2007 | MAT 2007 008 |
| Schumacher | Sylvie | 2007 | Das Potential von Community Health Workers und die Herstellung sozialer Sicherheit in Tansania. Sind Mikrokreditprogramme eine Option für die Sicherung der Gesundheitsversorgung auf der Gemeindeebene? | MAT 2007 009 |
| Stettler | Sarah | 2007 | Ethnisierungsprozesse in Ruanda - Bedeutungsänderungen der Begriffe "Hutu" und "Tutsi"? | MAT 2007 010 |
| Weber | Cyrilla | 2007 | Der Umgang mit der Vergangenheit. Aspekte des Transitional Justice Process in Sierra Leone | MAT 2007 006 |
| Saxer | Nadin | 2008 | Coming Home: Reintegrating Male Returnees from the Lord's Resistance Army in Northern Uganda | MAT 2008 001 |
| Abdel-Ati | Ibrahim | 2009 | Let the Colored into the Rainbow Nation | MAT 2009 004 |
| Howell | Brian | 2009 | The Price of Insecurity: The Growth and Impact of Private Security Firms in Africa | MAT 2009 005 |
| Mashuna | Timotheus | 2009 | The 1978 elections: South Africa's decolonisation plan for Namibia and its other implications | MAT 2009 001 |
| Näf-Gloor | Sandra | 2009 | Wanderlust or career planning? How the journey to South Africa in the years 1802-1806 determined the life of Hinrich Lichtenstein | MAT 2009 003 |
| Renggli | Francesca | 2009 | Mediation - Mittel internationaler Konfliktbewältigung? Mediation als Peacebuilding-Konzept in Nord Kivu der Acte d'Engagement | MAT 2009 002 |
| Affentranger | Lukas | 2010 | From "The Native Is The Enemy Of The Forest" Towards "Community Based Natural Resources Management": A History Of Forest Exploitation In Mozambique | MAT 2010 005 |
| Ammann | Carole | 2010 | There Is a Lot of Work to Be Done. Women and Politics in Benin. A Case Study | MAT 2010 007 |
| Bishop | Stephanie | 2010 | Damming the Olifants: Mining and Hydropolitics in the Limpopo Province | MAT 2010 004 |
| Bonenberger | Marc | 2010 | Malnutrition in Zanzibar – Prevalences, Determinants and Mitigation Strategies | MAT 2010 010 |
| Chan | Judith | 2010 | Social Suffering and Wellbeing: A Case Study of Somali Urban Refugee Youth in Eastleigh, Nairobi, Kenya | MAT 2010 006 |
| Grolimund | Andrea | 2010 | Transhumance towards Northern Togo: Effects of a New Inter-ministerial Order | MAT 2010 008 |
| Ismaila | Yakubu | 2010 | NGOs as Agents of Change in Health Development: The Agogo Presbyterian PHC Unit and CBS Volunteers | MAT 2010 011 |
| Neugebauer | Inge | 2010 | Ein Jahrzehnt der Ungewissheit: Von der Segregation zur Apartheid in einer südafrikanischen Schule. Lemana Training Institution 1948-1958 | MAT 2010 002 |
| Obrecht | Martina | 2010 | Familienangehörige von Migranten in Burkina Faso. Gelebte transnationale Sozialräume aus der Perspektive der Daheimgebliebenen. | MAT 2010 003 |
| Riedweg | Karin | 2010 | Stärken und Schwächen der Civil Society Organizations erötert am Beispiel von HIV/Aids in Tansania | MAT 2010 001 |
| Schürer-Ries | Anke | 2010 | Ruth Dammann and Anneliese Scherz: Unsung Photography and the Image of the Bushman in Post-Colonial Research | MAT 2010 009 |
| Bischoff | Helina | 2011 | South Africa's Shifting Identity: Categorisation and Strategy in the Climate Change Negotiations | MAT 2011 006 |
| Kley-Gomez | Chantelle | 2011 | Pictures of an Afropolitan Uplift: How Visual Representation of Africa in ARISE Magazine contributes to a new and modern African Identity | MAT 2011 003 |
| Kueng | Myriam | 2011 | Normal Life in Rwanda. Everyday life on the campus of the National University from the perspective of the student restaurant | MAT 2011 002 |
| Lortie | Leona | 2011 | Rhetoric and Reflection in the Face of Opposition: A Discursive Analysis of the Maji Maji in Colonial Germany | MAT 2011 001 |
| Oppliger | Daniela | 2011 | What fawours the desired outcome of a development project? - Perceptions of involved actors | MAT 2011 004 |
| Taube | Dorothea | 2011 | Wissensvermittlung afrikaspezifischer Inhalte in der entwicklungspolitischen Bildungsarbeit. Eine lebensweltliche Beschreibung wissensbildender Elemente bei ReferentInnen in der nicht-formellen Bildung | MAT 2011 005 |
| Schönmann | Florian | 2011 | Universal Men in Narrow-Minded Times. Postcolonial Identity and Anti-Apartheid Politics in the Music of Johnny Clegg | MAT 2011 X01 |
| Adisa | Oladimeji David | 2012 | Understanding Corruption through Public Perception. A Case Study of Nigeria. | MAT 2012 002 |
| Ahidjo | Nadia Ahmadou | 2012 | Frantz Fanon and the 21st Century: Ou en sommes nous? | MAT 2012 004 |
| Franz | Tobias | 2012 | "Join the Caravan": Von der Groupe Salafiste pour la Prédiction et le Combat (GSPC) zu al-Quaida im islamischen Maghreb (AQIM). Triumph des globalen Dschihads? | MAT 2012 013 |
| Geuder | Jacob | 2012 | Die Enträumlichung Bamakos. Transformation und Produktion eines urbanen Raumes | MAT 2012 006 |
| Ghebreghiorghis | Tesfalem | 2012 | HIV Testing Barriers Among Eritrean Migrants In Switzerland | MAT 2012 007 |
| Grogan | Patrick M. | 2012 | 'Improving' the Cape Colony, 1815-1821: The Perspectives of Sir Jahleel Brenton | MAT 2012 001 |
| Lüthy | Corinne | 2012 | The Development of the Water Distribution in Ouagadoudou, Burkina Faso: The Influence of Public Water Organization ONEA | MAT 2012 008 |
| Schelling | Anna | 2012 | Flourishing Trade at the Mouth of the Volta: The Significance of the Basel Mission and the Basel Mission Trading Company in ada, 1870-1914 | MAT 2012 005 |
| Wullimann | Chantal | 2012 | The Production of Road Traffic: Strategies of Pedestrians to claim Space in Dar es Salaam, Tanzania | MAT 2012 009 |
| Zannol | Fabienne | 2012 | Legislative Frauenquote in Tansania. (Un-)Möglichkeiten eines globalen Werkzeuges im lokalen Kontext | MAT 2012 003 |
| Zimmermann | Chantal | 2012 | "Wie eine Wand, hinter der man das Leben nicht sieht." Nothilfe und ihre Spannungsfelder im Alltag von LangzeitbezügerInnen aus Afrika | MAT 2012 010 |
| Zumthurn | Tizian | 2012 | Climate and Agriculture in Central Namibia, 1845 – 1920. A Study in Historical Climatology and Environmental and Social History | MAT 2012 011 |
| Müller | Nina | 2013 | Spannungsfeld Entwicklungsarbeit. Die Rolle der Partizipation der Zielbevölkerung in der Arbeit der schweizerischen Direktion für Entwicklung und Zusammenarbeit (DEZA) | MAT 2013 005 |
| Abukar Mursal | Faduma | 2013 | Forced Migration and Transitional Justice. Justice as for Somali forced migrants in Cairo | MAT 2013 004 |
| Buttà | Chiara | 2013 | The Rastafari Movement in Italy: An Imagined Communication | MAT 2013 003 |
| Cabantac | Myra Mae | 2013 | Positioning Success: Perspectives of Nigerian Women in Switzerland | MAT 2013 002 |
| Hakizimana | Joël Muhizi | 2013 | Les Africains de Suisse face aux enjeux de l'intégration | MAT 2013 001 |
| Albisser | Raphael | 2013 | United States Anti-Slave trade laws in Southeast Africa. The Implementation of American Law in the Final Years of the Transatlantic Slave trade. | MAT 2013 006 |
| Niederberger | Angela | 2013 | Linking Sustainable Livelihood Capitals and Capabilities: The Case of Chilika Lake | MAT 2013 X01 |
| Chansa | Jennifer C. | 2014 | The 'Urbanization' of Colonial Mine Labour in Zambia: An Analysis of the Godfrey Wilson Papers on Broken Hill Mine (1938-1941) | MAT 2014 003 |
| Giezendanner | Eliane | 2014 | Ambiguous 'Homecomings'. Repatriation of Second-Generation Burundian Refugees | MAT 2014 007 |
| Hoop | Sabine | 2014 | Adolescent Sexual Reproductive Health Services in Rwanda: Sex Education and Decision-Making | MAT 2014 008 |
| Krucker | Jeanine P. | 2014 | The Discovery of Aquifers in Turkana County, Kenya: A Preliminary Study on the Prospective Impact of Recent Groundwater Findings on Pastoralist Communities | MAT 2014 005 |
| Lusito | Agnes S. | 2014 | Realizing Foreign Investment in tanzania. How Policy Framworks Inform the Realization of the Bagamoyo EcoEnergy Project in Matipwili Village, Bagamoyo, Tanzania | MAT 2014 004 |
| Oderinde | Peter A. | 2014 | The Rise of African Immigrants: A Case Study of Nigerian Entrepreneurs and Professionals in the Economy of South Africa, 1994-2013 | MAT 2014 002 |
| Schaefer (jetzt Bögli) | Elaine Nicole | 2014 | Creating a Cause: Studying Principle Creation with Outsiders Theory through a Food Justice Organization | MAT 2014 001 |
| Simon | Sandro | 2014 | The Becoming of the Bamenda Wetlands: Cultivation in Continuous Change | MAT 2014 006 |
| Adjei | Isaac | 2015 | Urban Solid Waste Management in a Growing Economy: The Acceptance of Policies and Regulations by the People. Case Study in Kummasi, Ghana | MAT 2015 008 |
| Baumann | Joana | 2015 | Being connected. Insights into mobile phone practices of young people in Arusha | MAT 2015 X |
| Bioh | Prince | 2015 | Assessing the Effects of Miming on Communities' Health and the Physical Environment: The Case of Newmont Gold Mine in Brong-Ahafo, Ghana | MAT 2015 005 |
| Fahrlaender | Basil | 2015 | De la Sahraouité comme projet politique, étude socio-historique sur l'émergence d'une conscience nationale supra-tribale au Sahara Occidental | MAT 2015 004 |
| Furrer | Christian P. | 2015 | Malihai Clubs - Eine afrikanische Regierungsorganisation und die Natur-Kultur-Debatte | MAT 2015 006 |
| Kodua | Samuel | 2015 | Youth Unemployment Situation in Ghana: The case of Kumasi Metropolis | MAT 2015 007 |
| Tabiri | Gordon Kussi | 2015 | Masculinity and Sexual Health: Perceptions of HIV/AIDS by First Year University Male Students in Legon, Accra | MAT 2015 003 |
| Tarr | Natalie | 2015 | "Le Message Choisit La Langue" Language Choices and Attitudes Among University Students in Bobo-Dioulasso, Burkina Faso | MAT 2015 003 |
| van Leeuwen | Caro | 2015 | Home or Hospital? Birthing Decisions of Women in Accra, Ghana | MAT 2015 002 |
| Fordjour | Emmanuel A. | 2016 | The health status and support-based elder care in Ghana: A case study of the Ejisu-Juaben municipal in the Ashanti region of Ghana | MAT 2016 004 |
| Mukuku | Fungai | 2016 | Forgiven or Forgotten? Notions of Reconciliation in Zimbabwe under the Government of National Unity | MAT 2016 002 |
| Park | Sunghea | 2016 | Living as a Deaf Person in Urban Tanzania | MAT 2016 003 |
| Vuckovic | Dragana | 2016 | The role of health workers from former Yugoslavia in shaping the Health System in Africa: Perceptio of Africa by the former Yugoslavian health workers | MAT 2016 001 |
| Westhoff | Dominik | 2016 | "What is Ebola? Actors' Framing of a Multifaceted Problem" | MAT 2016 005 |
| Unterfrauner | Florian | 2016 | Living with Change. Adoption Strategies of Cameroonian Studio Photographers in the Face of New Technologies | MAT 2016 007 |
| Misteli | Leandra | 2016 | Alles Gold was gläntzt? Verantwortung von multinatonalen Unternehmen in der Goldindustrie: eine Fallstudie aus Tansania | MAT 2016 006 |
| Enrika | Charles | 2016 | Black women's hairstyles in societies. To what extent do black women adapt their hairstyles as a way to negogiate dominant culture? | MAT 2016 008 |
| Weber | Angelika | 2016 | Accountability and Justice for Economic Crimes? What standards and criteria were used to establish accountability and justice for economic crimes in the Truth and Reconciliation Commission after teh civil war in Liberia? | MAT 2016 009 |
| Asamoah | Prince | 2016 | Pursuing Dignity in South African Cities: How local Authorities respond to the Needs of Undocumented Migrant Families? | MAT 2016 010 |
| Roos van Zelderen | Merel | 2016 | Notions of Culture and ist Signifigance in Doing Business in and with Africa | MAT 2016 011 |
| Ambühl | Roman | 2016 | Case Study: The zambian Water Watch Groups. Towards a Model of Participatory Accountability? | MAT 2016 X01 |
| Gautschi | Manuel | 2017 | Development Brokers or Political Entrepreneurs? The Role of Mayors in Liberal Democracy Assistance in the Department of Borgou, Benin | MAT 2017 004 |
| Gepperth | Nadja | 2017 | Changing Concepts of Masculinity. A Historical Study on Cameroonian Migrants in Germany | MAT 2017 007 |
| Jenny | Raphael | 2017 | End of Supremacy. With Rhodesian Commandos and their Motives for Fighting at the Closing Phase of Zimbabwe's War of Liberation, 1979-80 | MAT 2017 001 |
| Leu | Zanele | 2017 | The Experiences, Roles, and Perceptions of Black Policemen in Kimberley during Apartheid in South Africa 1979-1980 | MAT 2017 009 |
| Musa | Ramatu | 2017 | Dueling Realities: The Authentication of African Womanhood in Two Photographs by Priya Ramrakha | MAT 2017 008 |
| Nzayisaba | Lydie | 2017 | The role of Traditional Healers in Tuberculosis Management and Control in Temeke Municipality | MAT 2017 003 |
| Osei-Gyawu | Matthew | 2017 | Livelihood Resilience and Perceived Vulnerability to Flooding among the Urban Poor in Accra | MAT 2017 006 |
| Randriamboavonjy | Jenna | 2017 | Le rôle de l'apprentissage dual dans la réduction du chômage des jeunes au Sénégal | MAT 2017 011 |
| Sidler Saho | Eva Sophie | 2017 | Malawi's Land reform from a Chieftaincy's Perspective | MAT 2017 002 |
| Werlen | Sarah Lages | 2017 | Rare cases of European females of the better class and delinquent coloured girls and women. Women's prisons in Cape Town, 1899-1948 | MAT 2017 005 |
| Zante | Nestor | 2017 | Les incivilités dans la ville de Ouagadougou | MAT 2017 010 |